About
Staff: 
Sindi Mjoli. Sindi has worked for the advice office since 2011.
Local Municipality:
Ingwe-Kwa Sani
Municipal Area:
3602 sq km
Municipal Population:
119 640
Areas Served:
The advice office serves Himeville as well as the communities of Loteni, Nhlathimbe, Goxhill, Stepmore, Stoffelton, Mqhatsheni, Drakensberg, Pevensy, eMakholweni, Underberg, KwaPitela, Sani Pass, Evart, Ndawana, Bushmansneck and Ridge, as well as many surrounding farms.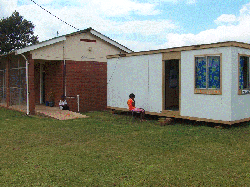 Description:
Himeville is a small town of approximately 1700 people situated in the foothills of the Southern Drakensberg, five kilometres outside Underberg and 130 km west of Pietermaritzburg. The office is on the premises of the police station. Farming and tourism are the main economic sectors, with many visitors passing through nearby Underberg on their way to the Drakensberg.
The population of the local Ingwe-KwaSani Local Municipality* is approximately 119 640.  24% of the population are less than 15 years of age, 70% are aged 15-64 and just 6% are 65 and over. According to the 2011 census, 16% of people are unemployed and youth unemployment is 20.5%. The definition of unemployment used here does not include unemployed people who have given up looking for work, and therefore the real rate is higher. The advice office database records a much higher rate of joblessness: in 2016, 45% of clients of working age were unemployed and only 55% were working.
Many areas are characterized by poverty and poor infrastructure, and for example only 68% of homes are formal dwellings, 75% have electricity and 43% have piped water. 83.5% of the population are Black and 15% are White.
*The Kwa Sani Local Municipality was amalgamated with Ingwe Municipality in August 2016. The employment, age and infrastructure statistics used here are from the 2011 census of the Kwa Sani Municipality (before it was amalgamated), which is the area served by the advice office.
In 2016, the office attended to 138 cases, with the most common involving assistance with documents and financial/labour rights, followed by maintenance. It successfully resolved 48 cases through mediations. We recorded the following information about clients:
62% were female and 38% were male
89% were aged 19-59, and 11% were over 60.
45% of clients aged 19-59 were unemployed, and only 55% were working
Interview with Sindi Mjoli
How long have you worked for the advice office?
Since 2011  
What led you to work for the advice office?
My dream was always to be a social worker, but because of financial difficulties I couldn't study for that. I grew up as an orphan and l always wanted to help children. I heard about the centre from a friend who visited it with a problem.
What are the most common cases that you deal with?
Most problems are ID problems. Parents pass away and leave children with no documents like birth certificates. They go to Home Affairs but the local officials don't have the correct information.  I give them referral letters for Home Affairs explaining the law and what they need, and this helps them to get their documents.
The other common cases are of maintenance. I find that people get help with maintenance from the courts but after about three months one party stops paying, and the other person comes to me for help. I contact the Maintenance Office for them, and they take up the matter and get the payment started again.
What advice would you give children growing up in Himeville?
I would say stay away from drugs and sex so that your future can be bright. 
Who is your role model?
One of my relatives. The way he looks after our family and other people, he lays his life down for others.
Do you ever use traditional laws to solve your problems?
Sometimes there is a small problem where the law can't help, and we refer those cases to others. For example, a woman came here asking for compensation from someone who accused her of bewitching them. She wanted two cows as compensation. I couldn't help her so I referred her to the traditional court.
Is there a law that you feel should be changed?
It is the child support grant. I would give the grant to the grannies because youngsters do their own things with the money and the children are suffering. I would pay the grant as food vouchers, and make sure there are more mobile clinics to treat the children so that the mothers don't need the money to travel to clinics.
Has the behaviour of people in your area changed in the time you have worked there?
Yes, a little bit. There is less domestic violence now. At first only women reported their problems. Now men also come, usually to complain about their wives. Instead of just hitting them, they come to me first.
What are the particular challenges that you face in your work?                                                           
Transport is the main one. Often we get calls to go to people's houses to help someone, but we cannot get there quickly or sometimes even until the next day. We rely on lifts from the police, and sometimes we can't get them when we want.
Is there a case that you remember that was especially rewarding?
There was a baby, ten months old. His neighbours called me to say they had heard a child crying all night. I went there in the morning and saw this baby boy on the floor crying. His parents had abandoned him and there were people sitting around it laughing and saying 'Where are your parents?' I asked them why they didn't help and they said that they didn't know who the parents are.  I called the community health worker and asked her to keep the child for the night because I already had two children in my home, an abused child and my own. The health worker agreed.
I bought food for the child and went to the Department of Social Development and asked a social worker to do the paperwork so that the child could be admitted to a place of safety, a private shelter. The social workers told me to come back later and for two days they didn't help. So I took the child on my back to the shelter without the paperwork. The woman who runs the shelter was extremely friendly and took the child in. I visited the baby two days later and was happy – it was clean and had new clothes. It was later sent to a good school. I always visit the centre to see how the child is. It's two and a half years old now.